Suggestions for the Mini Bibliomaniac!
It's World Book Day next week and your children may receive a £1 book voucher. There are some specially published £1 books available or you can put it towards another book of their choice. I know what mine will do! And it probably won't just be the one book.... but let's face it, I am in no position to complain!
So I thought you might like some suggestions of what they could spend their money on or what they might look for in the library. Hopefully, World Book Day will generate lots of conversations amongst them so they share lots of recommendations with each other as this is the best way to find something they'll enjoy. Don't worry about what they choose, whether it's "worthy" or "educative" or too easy. Let them choose. If it's too easy, they'll feel more confident and adventurous next time. If it's a comic style book it doesn't matter, it's still a book. If it's too hard, they'll give up and then you can help direct them to something else. If it's risky or challenging subject matter then they'll either put it aside until they're more comfortable or they'll take it in their stride. Make sure you're there ready to talk about it if you need to be - sometimes novels about death, pregnancy, drugs, bullying etc are excellent ways to open up an objective dialogue and actually give children a safe context in which to explore complex emotional subjects. The most important thing about World Book Day is to enjoy it and celebrate books! That means you should treat yourself to something new too. Make sure your children see you reading! ....But maybe not to the point where they start to say "Are you at the end of your chapter now?"......... Who would let that happen?! *cough*
A lot of these books have been around for a long time but I hope you find something that grabs your mini bibliomaniac!
Ages 5-8 years
Enid Blyton
You just can't beat her really. Although some of the writing is a little dated and sometimes takes a while for children to get used to, it's undeniable that her books are still very readable and still enjoyed universally. For younger readers there's the "Faraway Tree" and "Wishing Chair" selection, then "Amelia Jane" or the "Naughtiest Girl" series and then for slightly older readers all the school based adventures at Malory Towers or St Clares. "The Famous Five" work for boys and girls at this age. They are good books to read aloud to your children until they are ready to read alone and this may help overcome any language or contextual explanations.
Darcy Bussell's Magic Ballerina Series
Yes I know, it's pink, it's sparkling and it's about ballet..... ! We all thought we'd never do it but do you know what, your daughter will love them! And there are plenty of them! In their defence, they do encourage an interest in the classical stories on which actual ballet's are based and include instructions for real ballet moves. They are easy to read aloud to a 5 year old and make a great choice for a 6/7 year old who is beginning to read independently.
Mrs Pepperpot
Again, a timeless classic but a great choice to be either read aloud to a younger reader or for someone beginning to read independently. Gentle, imaginative, humorous and full of harmless adventures!
Tony Milton's Groovy Raps Series
This are really good fun - although a little hard to track down through Amazon - we borrowed several from the library. My son really enjoyed these. They are short, full of illustrations and large print text, very accessible and lots of fun. It even inspired him to start writing his own raps! There are also plenty of collections of Greek Myths available if your children show an interest in these timeless heroes and monsters! Marcia Williams' comic strips are particularly gorgeous and full of witty comments. Myths and Legends are a really good line to go down with boys as they are often short, more succinct stories with appealing heroes, monsters, quests and challenges.
Anne Fine "Killer Cat" series
Anne Fine is a very established, highly acclaimed author who has published a lot of novels suitable for this age group and 8-11 year olds. These books are highly readable and extremely funny. They will be enjoyed by boys and girls - and adults!
Frank Lampard's Magic Football series
So just as we shouldn't buy the pink ballet books, maybe we shouldn't get the blue football ones either? However, yet again, they will be read and enjoyed! There's a whole bunch of them to get through if they are a hit which is always particularly appealing to boys. They are well written with the winning combination of football and magic!
Michael Morpurgo
Mr Morpurgo has to be one of the most talented children's authors on the planet and the one who has written the most! A lot of his titles are for older, more confident readers but these stories are lovely. Gentle, entertaining, amusing and presented with lively illustrations they are a great stepping stone between "picture books" and "chapter books". Both my son and daughter read and reread these.
Ages 8-11 years
Michael Morpurgo
Sticking with Morpurgo, he has written several novels about King Arthur, Robin Hood, Joan of Arc and Sir Gawain which I think are really appealing for boys in this age range. The stories are classics but still resonant and still excite children. Morpurgo is a compelling story teller.
Helen Moss' Adventure Island Collection
These have been a huge success in our house and have actually on occasion been read in almost one sitting! There are at least 10 books in the series; each involves a crime that needs solving and is full of all the classic ingredients for an adventure story - caves, hidden passages, secrets and plenty of suspense. These are modern and contemporary and a kind of reinvention of Blyton taking all the best elements and rooting them more firmly in today's world. Would highly recommend.
Holly Webb's Maisie Hitchens Collection
Holly Webb has written a great range of books for this age or for more confident 6/7 year old readers. She writes a lot of animal stories which will appeal maybe to younger girls but also has published these mystery books. They are set in Victorian London and follow the adventures of Maisie, the pluckiest detective you'll ever meet! Webb has also written a series of books about princesses and some longer novels like "Winter Wolf" which have captivated my daughter.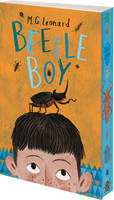 M G Leonard "Beetle Boy"
I haven't read this yet as it has only just been published but Twitter is raving about it and it is also highly reviewed in the paper and by Waterstones. It is a mystery / adventure story and sounds full of action, excitement and well crafted characters.
Michael Rosen "Uncle Gobb"
Michael Rosen is more well known for his humorous poetry but this brand new novel is highly entertaining and wonderfully perceptive. It's very engaging with some subtle messages about education and creativity. Your children will race through it and thoroughly enjoy it.
Other titles you can start to think about in this age bracket are things like "The Lion, The Witch and The Wardrobe", "Charlotte's Web", Noel Streatfeild's "Ballet Shoes", Philippa Pearce's "Tom's Midnight Garden".
Teenagers
Andy Muligan "Trash"
This was recommended to me by a Year 8 "reluctant reader" who had totally got caught up in this story. It had also triggered a lot of thought and discussion about the broader issues such as poverty, corruption and waste that are raised in the book. Essentially it's an adventure story - very thrilling, very fast paced and good characters. It was apparently removed from the Blue Peter Shortlist for having too much violence in it but I think it's a really good read and will satisfy a lot of appetites.
Sarah Moore Fitzgerald "The Apple Tart of Hope"
Ok, so it was the title and the cover that made me buy this book! However it is a lovely read and I thoroughly enjoyed it. Oscar, the best apple tart maker, goes missing. His best friend Meg and Oscar's little brother set out to find him. It's a poignant tale of friendship and hope. I can also recommend "Back to Blackbrick" which is a novel of suspense and intrigue as a boy tries to fulfil his promise to his grandfather.
Malorie Blackman "Noughts and Crosses" series
If you haven't read these books yet then you must! This trilogy predates "Hunger Games" and the subsequent eruption of recent "dystopian" trilogies but is by far the most captivating and compulsive. The clever premise is a romance between Sephy, a "Cross" and Callum, a "Nought". The Crosses are the dark skinned ruling classes and the Noughts are the colourless underclass. I'm saying no more. Just read it!
I hope there are some new titles in there for you and some things which will excite your mini bibliomaniac! Happy World Book Day and I do hope you've enjoyed putting a fancy dress costume together your children to attend school in!
For more recommendations, reviews and bookish chat please follow me inn Twitter @katherinesunde3 (bibliomaniacUK) or sign up for email notifications on the right hand side.