My Review of the Week in Books
So many books......so little time! It seems as if I just get my to read list under control and then before I know it, it's grown again! Each read sounding as enticing as the last!
Books Popular on Twitter
There have been some great offers on Kindle this week, particularly for pre-order downloads and this was one of them. I recommended Linda Huber's "The Attic Room" in a previous blog about "Grip Lit" so I was excited to see the announcement of her new novel appearing on my timeline - and of course, I had to download to my kindle! It promises to be a page turner with a story of disappearance, death and betrayal. It's reviews on Twitter and Goodreads are very positive so far!
"The Exclusives" by Rebecca Thornton has also been constantly recommended on my Twitter feed with a very impressive 4.25/5 rating on Goodreads. It is about two girls at boarding school and charts their friendship as it spirals out of control. Some of the reviews implied it was a lighter read but words like "compelling", "gripping" and "a page turner" kept cropping up so it might just be what you are looking for over the half term break.
Two friends independently recommended Caroline Kepnes "You", which ironically was cheaper in paperback than kindle so it sneakily found its way into my basket and doorstep. How does that happen? With quotes from Lena Dunham, Stephen King and Sophie Hannah on the back I am certain this will be a chilling "Grip Lit" read! It sounds like it has elements of John Fowles's brilliant "The Collector" and may be as creepy and unnerving. One to read with the light on perhaps?
Waterstones Announces Shortlist for its Children's Book Prize 2016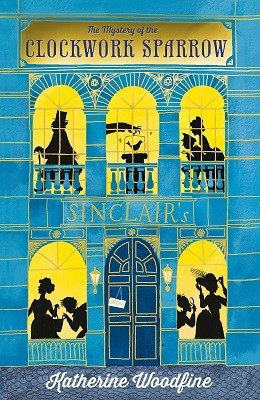 Anyone wondering what to recommend to their children should definitely take a look at the nominations on this list. There are some great titles for all age groups including "The Mystery of the Clockwork Sparrow" and "The Accident Season" which I recently recommended on my blog about Young Adult fiction. All the authors deserve to win and reflect the diverse and original range of novels available to children at the moment. I wish Katherine Woodfine and Moria Fowley Doyle good luck in the competition and shall be following the announcement of the winner on the 17th March with interest.
The Guardian's Saturday Review
It's impossible to read this supplement without having to add at least a couple of titles to my to read list! The first book is a collection of Shakespeare's sonnets revisited by contemporary poets. Wendy Cope, Andrew Motion and Imtiaz Dharker's contributions were published in the paper and it looks like a lovely compilation to celebrate Shakespeare's 400th anniversary.
Helen Ellis's collection of short stories, "American Housewife" has definitely caught my eye. I often approach "humorous" books about the life of modern day housewives with trepidation as at times it can be too close for comfort! I'm often not altogether comfortable with the cliches or stereotypes which either reduce the women to something farcical and ridiculously superficial or, like Gill Hornby's "The Hive", belittle some of the more painful situations that take place at the school gate. I say this as I make homemade treats out of avocado, banana and dates to fob off to my offspring as chocolate brownies while they are out at a three hour weekend theatre class.......I know...... However, this collection sounds more insightful and says there is enough "egg for everyone's faces" including the reader so even if you laugh at some of the women, the joke is often turned back at you. The reviewer claimed as well as the stories being "hysterically funny', "you are left with a sense of a darker revelation". I think it sounds interesting.
"A Girl is a Half Formed Thing" by Eimear McBride was written in six months when she was 27 years old; it won the Bailey's Women Prize and has been highly acclaimed. It is currently on stage at the Young Vic until the 26th March adapted into a series of "compelling monologues" which reveal a "dark emotional world" and leave the audience both spellbound and moved. Friends who have read the book say it is quite a difficult novel to read because of its "extraordinary" style as well as the actual content so it sounds as if the play will both intense and challenging to watch. However, it does sound interesting and probably worth investigating if you have read the book or seek a more profound theatrical experience.
The paperback round up included "Things We Have in Common" by Tasha Kavanagh, another download on offer with kindle this week which seemed to wire its way on to my device! It was shortlisted for the Costa First Novel Award and has rave reviews on Goodreads.com. Let's face it, I can't resist a thriller!
Simon Mayer's "Tightrope" was there too, continuing the story of Special Operations Executive Marian Sutro from his previous novel "The Girl who Fell from the Sky". Billed as the closest thing to a female Bond in fiction, it promises to be a captivating read. I thoroughly enjoyed "The Glass House" and kicked myself that it had sat on my to read pile for as long as it had!
Mourning the End of the BBC "War and Peace"?
I managed to catch up with the BBC's most talked about programme this week and it has left me bereft, seeking more costume drama! I suspect very little will match up.
If you are wondering how to fill your Sunday night viewing, why not have a think about these?
Gaskell's "North and South" or "Cranford" - have to admit that "North and South" is one of my favourites...!
PD James's "Death comes to Pemberley" - a sequel to "Pride and Prejudice" which I enjoyed much more on the screen than as a novel
Christie's "And then there were none" which aired over Christmas and was highly atmospheric
Zola's "The Paradise" for slightly less of a soap opera than "Mr Selfridge"! (although I find I can't resist that either!!)
or revisit past BBC adaptations of classics - I rewatched "The Tenant of Wildfell Hall" after finishing Sam Baker's excellent reimagining of this story in her new psychological thriller "The Woman Who Ran"
Happy reading Bibliomaniacs! Good luck with your "to read" list and fingers crossed you all find some time to enjoy a chapter or three!
For more recommendations, reviews and bookish chat, follow me on Twitter, @katherinesunde3 (bibliomaniacUK) or sign up for email updates on the right hand side.