Book recommendations from this week's news
I'm late - I've only just been able to catch up with The Guardian's "Saturday Review" - real life got in the way of my reading this weekend! So just in case you missed some of the highlights from the weekend and last week's Twitter feed, here are the titles that grabbed my interest over the last ten days.
Books I've read this week.....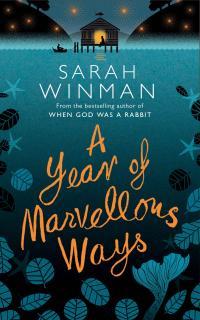 This week I read "A Year of Marvellous Ways", currently part of the "Richard and Judy Book Club" reads and second novel from Sarah Winman who wrote the lyrical hit "When God was a Rabbit". It's a
n absorbing story of love and friendship, full of poetic prose and a sprinkling of magic- a real treat and from it I could quote endless sentences which struck me as beautiful writing. Highly recommend!
I also finished "What She Left" by T R Richmond. Please see my separate blog post for full review. The book opens with the death of Alice Salmon and the novel continues with a mixture of diary extracts, letters, blogs, emails, twitter and Facebook posts from a range of suspects ensuring a fast paced, modern and original thriller.
Now I'm racing through Sam Baker's "The Woman Who Ran" which is based on Bronte's "The Tenant of Wildfell Hall". So far it's engaging, atmospheric and gathering pace towards an exciting ending. I'm inspired to return to the original classic too!
Books I found myself buying this week......
"Me Before You" by Jojo Moyes.
I have read a few of Moyes' novels and enjoyed them but have to admit not being drawn to this one before as the content sounded a little harrowing. However, seeing the release of the trailer for the upcoming film coming out this summer, I decided I needed to read it before I could see it in the cinema! Just because the subject matter might be challenging or provocative isn't a reason to avoid it! Moyes is a good writer and I'm sure this novel will be a very compelling read.
"The Wake" by Anna Hope
Hope's new novel "The Ballroom" is out this week and sounds absolutely fascinating and there has been a huge flurry of incredible reviews all over Twitter and numerous blog posts raving about this powerful sounding story. Kindle were offering a cheap deal on her first novel "The Wake", so I thought I would investigate this while awaiting the publication of "The Ballroom". It is a story of three women dealing with the after affects of WW1 and how it impacted the men in their lives. As the story unfolds the women's lives are tragically intertwined. It sounds like a thoughtful and moving book and I do find novels set in the First World War particularly enjoyable.
Books I added to my "To Read" list.....
(which is getting seriously out of control!!)
"My Name is Lucy Barton" by Elizabeth Strout
Reviewed in The Guardian and across Twitter this book is about the reconciliation between a mother and daughter. It sounds like a thoughtful and reflective read and is described as "compelling" and "beautiful". Probably a good antedate to the volume of thrillers I have been devouring recently!
"The Power of the Dog" by Thomas Savage
This republication of a Vintage Classic is being heralded as the new "Stoner" - which if you have not read, I heartily recommend. "Stoner" is a quiet novel, a portrayal of an ordinary man and an ordinary life but there is something poetic about the narrative and the writing is excellent. This novel was first published in 1967 and is about two brothers living in Montana in 1924. Both these novels may be unlike your normal choices but will definitely be worth trying and the publishing world clearly believes they are still relevant and deserving titles.
"When Breath Becomes Air" by Paul Kalanithi
This is written by a surgeon and his recounts his battle with cancer. It has received much praise and I heard an interesting interview with his wife on Woman's Hour today about it. It is described as profound and uplifting and a life affirming memoir.
"In Her Wake" by Alison Jennings
This has 5/5 from all 10 reviews on Goodreads which I have never seen before! A psychological thriller not out until April but sounds compulsive reading!!
If you want to see more recommendations, reviews of bookish chat why not follow me on Twitter? @katherinesunde3 (bibliomaniacUK)